Addicting and impossible to put down: My review of "The Lesson" by @suzannewfisher
I'm not normally one who raves about Amish fiction. But if everyone wrote Amish books the way Suzanne Woods Fisher did, that's all I would read!
Check out her latest book below :)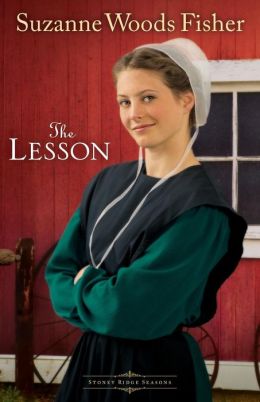 Sometimes love shows up when you least expect it.
Nineteen-year-old Mary Kate Lapp yearns for adventure, but all she seems to find is trouble. Her dreams of travel have taken a backseat to her assignment to teach school this year. And nothing ever seems to happen in her sleepy Amish community.
But when a sudden and unexplained death conveniently coincides with the arrival of a mysterious young man, M.K. is frustrated that no one takes it seriously. She's determined to take matters into her own hands and get to the bottom of it. Will she find more than she bargained for?
Centered on one of bestselling author Suzanne Woods Fisher's most loved characters, this is the Stoney Ridge story you have been waiting for. With a surprise at every turn, a gentle romance, and a shocking answer to an old family mystery, The Lesson is the dramatic conclusion to the Stoney Ridge Seasons series.
I have a confession to make.
I am thoroughly addicted to the Stoney Ridge Seasons series by Suzanne Woods Fisher, utterly mesmerized by the richly drawn characters, and convinced that the entire series should be required reading for anyone who loves Amish fiction! The Lesson is the perfect end to the series (though I wish the series could just keep going!), and like the prior books in the series, had me laughing out loud one moment and fighting tears the next.

Now I have to give the author extra credit, because at the end of the first book in the series, I became convinced that Mary Kate (M.K.) was simply going to have to marry Jimmy. If you've read the first book, you will understand what I mean, because the scene where big bad bully Jimmy comforts M.K. when she loses her brother probably had you in tears like it did for me. But then the author brought in a new possible love interest for M.K. in the character of Chris, and suddenly I found myself wondering who exactly I wanted M.K. to choose, a question I wasn't expecting to wrestle with (as you can see, I'm clearly a closet romantic). I truly appreciate the character of M.K. and loved watching her grow over the course of this story. I also enjoyed the new plot line following the story of Chris and his sister Jenny, a sub plot that was especially heart-breaking and made for some dramatic reading.

I honestly could go on and on about this book, this series, and these characters, all of whom have grown to become like family to me. So long dear friends! We shall meet again in the future when I go back to read this series over again.

5 out of 5 stars.
Book has been provided courtesy of Baker Publishing Group and Graf-Martin Communications, Inc. Available at your favourite bookseller from Revell, a division of Baker Publishing Group.
Suzanne Woods Fisher is the bestselling author of the Lancaster County Secrets series and the Stoney Ridge Seasons series, as well as nonfiction books about the Amish, including Amish Peace. She is also the coauthor of a new Amish children's series, The Adventures of Lily Lapp. Her interest in the Anabaptist cultures can be directly traced to her grandfather, who was raised in the Old Order German Baptist Brethren Church in Franklin County, Pennsylvania. Suzanne is a Christy Award finalist and a Carol Award finalist. She is the host of internet radio show Amish Wisdom and a columnist for Christian Post and Cooking & Such magazines. She lives in California. For more information, please visit www.suzannewoodsfisher.com and connect with her on Twitter @suzannewfisher.