Mesmerizing: My review of "All for a Song" by Allison Pittman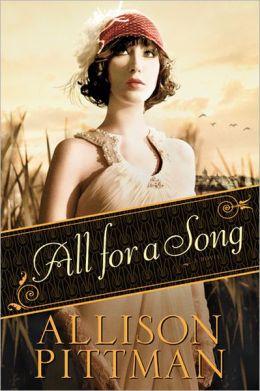 Feeling like she's been pushed into a life she's not sure she entirely wanted, Dorothy Lynn Dunbar escapes home for a few days and goes to St. Louis to spend time with her sister and family. Her heart seems torn between the love she has for her fiance and family and church, and the longing she has deep inside for something more. While in St. Louis, Dorothy Lynn encounters the modern temptations of the Roaring Twenties, the movies and music and fashion. She also meets Aimee Semple McPherson, a charismatic evangelist, and her manager Roland. When Dorothy Lynn's passion for singing and playing her guitar in free-spirited worship results in an invitation to join McPherson's crusade team, Dorothy Lynn finds herself confronted with difficult choices and an uncertainty about God's calling on her life.

Allison Pittman's latest novel is a delight to read, having been woven together with beautiful narrative, stirring faith, and characters you will connect with. I loved the interplay between the scenes of Dorothy Lynn in the Twenties, wrestling with her feelings and her choices, and the scenes of Dorothy Lynn as a 107-year-old woman who isn't entirely sure why God has allowed her to stay on Earth for so long. As with her earlier novels, the author easily drew me into the story, displaying her gift with the pen, and stirring up within me deep emotions as I ventured ever deeper into the tale of Dorothy coming of age and trying to discover God's plan for her life. Aimee Semple McPherson is a fascinating character, and whether or not a reader fully agrees with all of her beliefs, you cannot help but admire a woman who was so passionate about sharing Jesus Christ with a nation flirting with moral anarchy. And yet her story also serves as a warning of how easily power can corrupt, that something well-intentioned can take on overtones of pride and selfishness and personal gain. All for a Song is a book that will not only entertain you, but will leave you thinking about why we make the choices we do, and even how we use the gifts God has given us.

I award this book my highest recommendation, and a rating of 5 out of 5 stars.

Book has been provided courtesy of the publisher, Tyndale House, for the purposes of this unbiased review.


Award-winning author Allison Pittman left a seventeen-year teaching career in 2005 to follow the Lord's calling into the world of Christian fiction, and God continues to bless her step of faith. Her novels For Time and Eternity and Forsaking All Others were both finalists for the Christy Award for excellence in Christian fiction, and her novel Stealing Home won the American Christian Fiction Writers' Carol Award. She heads up a successful, thriving writers group in San Antonio, Texas, where she lives with her husband, Mike, their three sons, and the canine star of the family—Stella.