Alright ladies, prove me wrong! GIVEAWAY & review of "Picture Perfect" by Janice Thompson
So I'm REALLY curious what the average female thinks of Janice Thompson's latest romance novel. If you haven't read it yet, then for goodness sakes enter the giveaway I'm hosting (see below). Then let me know what you think! Will you agree with my review? Or send me hate-mail?
Read on for a man's take of "Picture Perfect"!!!
(And if you've read this book already and vehemently disagree with me, then try not to print off my picture and turn it into a dartboard please)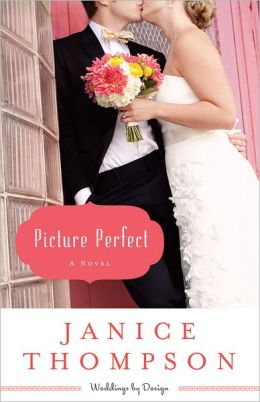 about the book...
She's trying to focus on her future. How can one man make everything feel so . . . fuzzy?
Hannah McDermott has a successful photography studio. She'll soon be featured in Texas Bride magazine. And she has a celebrity client whose Galveston ceremony will be her ticket to the top spot on wedding coordinator Bella Neeley's list of recommended photographers. But it could all come crashing down around her because of one man: archrival and photographer extraordinaire Drew Kincaid.
As the competition between Hannah and Drew heats up, Hannah is surprised to find that it's not the only thing getting more intense. She can't get the handsome man out of her thoughts-or even out of her line of sight-and the job of her dreams is turning into a nightmare. Will everything she's worked for slip out of her hands? And can she see past her pride to find a picture-perfect love?
With contagious humor and a cast of quirky characters, Janice Thompson gives you crazy bridal-business drama, sweet romance, and a satisfying dose of laughter.
It is a dangerous thing for a man to review a contemporary romance novel. Either I will be reduced to a gently weeping pile of mush (which I admit has happened on occasion), or the thoughts of the female star of the novel will make my eyes roll right out of my head (a painful endeavor at best). For the first half of this novel, I admit to being in the second category. I simply couldn't handle one more description of the hottest man God has ever made, etc. I also found the main character, Hannah, to be entirely self-absorbed. For example, she'd phone to unload her insecurities on her best friend, Scarlet, then seem to barely listen to her friend talking because she was so anxious to talk about herself. I just wasn't feeling the love.

About halfway through the book, I gradually grew to care about Hannah and enjoyed the banter between Hannah and the oh-so-handsome Drew. I also found myself internally applauding as Hannah experienced some moments of growth, such as when she "thought about that Scripture, the one about putting away childish things. Maybe that's all God required of me here - to put away my childish, petty feelings and live in the moment". Thereafter, I thought Hannah would make a great friend.

Don't get me wrong. The book is meant to be light-hearted, and it certainly was that, featuring fun characters, and written with an expert hand. There are many humorous moments, and the end left me wanting to find out what happens next to the other lovable characters who grace the pages of the novel (such as Hannah's best friend Scarlet).

So I'm left giving the book a mild recommendation of 3.5 stars out of 5. Female fans of contemporary romance novels will likely swoon with glee by the end of the story. I'm going to go read a thoroughly male suspense novel filled with scenes of testosterone and aggression.
Book has been provided courtesy of Baker Publishing Group and Graf-Martin Communications, Inc. Available at your favourite bookseller from Revell, a division of Baker Publishing Group.



Janice Thompson is a seasoned romance author and screenwriter. An expert at pulling the humor from the situations we get ourselves into, Thompson offers an inside look at the wedding business, drawing on her own experiences as a wedding planner. She is the author of the Weddings by Bella series and the Backstage Pass series. She lives in Texas.
And now for the giveaway....
I am giving away 1 copy of "Picture Perfect" to readers from the U.S. and Canada, courtesy of the publisher, Revell, and Graf-Martin Communications, Inc
You can get 1 entry into the giveaway for each task you perform:
1. Become a follower of my blog (through Google Followers or Networked Blogs) then leave a comment confirming you became a follower. If you are already a follower, just leave a comment that you already follow and I'll give you 1 entry for that.
2. "Like" my Facebook page, and let me know you did so in a comment. (The link is at the top of the webpage). Let me know if you've already liked it, and I'll give you an entry.
3. Post about the giveaway on your own blog or on twitter or facebook and leave me a comment. You get 1 entry for each method of spreading the word!
4. Leave a comment answering the following question: "Are men in Christian romance novels ever TOO hunky for your tastes?"
++ Please include your email address in your comment so I can contact you to arrange to get the book in the mail to you.
That's all there is to it. Contest Ends February 15, 2013.
Good luck!