A powerful read: My review of "Love in a Broken Vessel" by Mesu Andrews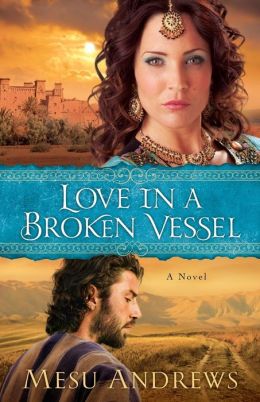 An epic journey of intimacy, rejection, betrayal . . . and hope.
God gives Hosea a difficult command--marry a prostitute in order to show God's people the nature and depth of His love for Israel. When Hosea goes to Israel to proclaim the Lord's message, the woman God directs him to marry turns out to be his childhood friend Gomer. He finds her broken and abused, unwilling to trust Hosea or his God. But when marrying Hosea becomes her only means of escape, Gomer does what she's good at--she survives. Can Hosea's love for God and God's love for Israel restore Gomer's broken spirit?
With her powerful combination of in-depth research and masterful storytelling, Mesu Andrews brings to life one of the most complex and fascinating stories of love and forgiveness in the face of utter betrayal.
"Love in a Broken Vessel" is a powerful read, one that breathes with historical authenticity and heart-rending emotion, and has left me contemplating the vast love of God. Mesu Andrews does a fantastic job at bringing to life the story of the prophet Hosea, called by God to love a prostitute as a display of God's love for his chosen people of Israel. The characters are richly drawn, with much about them to admire while still definitely showing their human side as well. Gomer is a woman that you will quickly grow to care about, even as you may find yourself shaking your head at some of her actions and her often hard-heart. I love the author's portrayal of the various prophets you meet in this story, from Hosea to Jonah to Isaiah, and I can honestly say that I have gained a deeper appreciation of the cost that they paid to honor God's calling on their lives. I found myself asking if I could ever be as bold as they were, sharing God's message to a king who could strike them dead, telling people to turn back to God even if that may end up costing them their lives. I was not only fully entertained by this story, but I was challenged in my faith as well - and that makes for a worthy novel indeed.

Biblical fiction doesn't get better than this! I award this book a rating of 5 out of 5 stars.

Book has been provided courtesy of Baker Publishing Group and Graf-Martin Communications, Inc. Available at your favourite bookseller from Revell, a division of Baker Publishing Group.


Mesu Andrews is the author of
Love Amid the Ashes
and
Love's Sacred Song
. She is an active speaker who has devoted herself to passionate and intense study of Scripture. Harnessing her deep understanding and love for God's Word, Andrews brings the biblical world vividly alive for her readers. She lives in Washington.