Provides a rich adventure! My review of "Sovereign" by Ted Dekker & Tosca Lee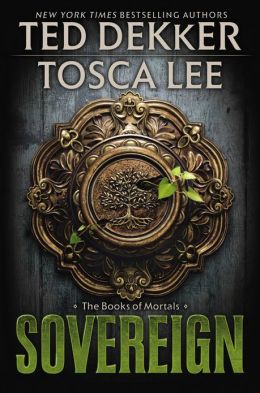 Nine years after Rom Sebastian was thrust into the most unlikely of circumstances as hero and bearer of an unimaginable secret, the alliance of his followers is in disarray. An epic battle with The Order has left them scattered and deeply divided both in strategy and resolve in their struggle to become truly alive and free.
Only 49 truly alive followers remain loyal to Rom. This meager band must fight for survival as The Order is focused on their total annihilation. Misunderstood and despised, their journey will be one of desperation against a new, more intensely evil Order. As the hand of this evil is raised to strike and destroy them they must rely on their faith in the abiding power of love to overcome all and lead them to sovereignty.

SOVEREIGN wonderfully continues the new testament allegory that was introduced in FORBIDDEN and continued in MORTAL.
Ted Dekker and Tosca Lee have again combined their tremendous writing talent in "Sovereign", the third installment of "The Book of Mortals" series. As with the first two books, the scenes are vividly drawn, the writing is crisp, and the words flow smoothly, sweeping you up into the power of the story. From the start, the scenes explode with action, and I was immediately gripped by the opening chapters as good clashes with evil. My favourite character in this story is easily that of Jordin, who wrestles with doubt and whether she's making the right choices, but ultimately has a powerful encounter that opens her eyes to truth and to love. All of the characters are very well-developed, and I enjoyed the twists that are written into the story, where nothing is black and white, and even the villains invoke sympathy. The authors have created a book and an entire series that has so many parallels to the Christian walk and what Jesus accomplished through his death and through the abundant life he offers us. As such, the book can be read purely for entertainment value, or you can ponder the deeper truths woven into the story. I did find that the book dragged a bit for me in the middle, but by the end I was glued to the pages to see how everything would resolve. I closed the pages thinking about the strength of my own faith in Jesus and how fully I've allowed his truth to bring freedom into every part of my life. Any book that has me mulling over issues of faith while providing an absorbing ride is definitely worth reading!

Sovereign provides a rich adventure, and readers who have enjoyed the first two books in the series are certain to be pleased with this addition. I strongly recommend this book and award it 4 out of 5 stars.

Book has been provided courtesy of Hachette Book Group. Available at your favourite bookseller from FaithWords, a division of Hachette Book Group.


TED DEKKER is a New York Times bestselling author of more than twenty novels with a total of more than 3 million books in print. He is known for thrillers that combine adrenaline-laced plots with incredible confrontations between good and evil. - See more at: http://www.hachettebookgroup.com/authors/ted-dekker/#about
TOSCA LEE is the New York Times bestselling author of Demon: A Memoir, Havah: The Story of Eve, Iscariot and the Books of Mortals series with New York Times bestseller Ted Dekker. She is best known for haunting prose and humanizing portraits of maligned characters. A former international business consultant and lifelong adventure traveler, she makes her home in the Midwest. - See more at: http://www.hachettebookgroup.com/authors/tosca-lee/#about