Will help you grow in intimacy with God: My review of "The Lifestyle of a Prophet" by James W. Goll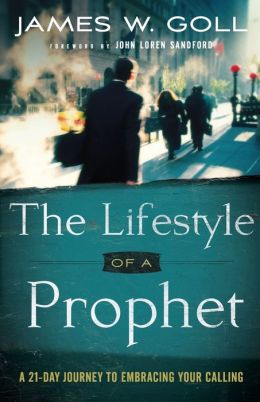 "If your heart says, 'Not my will, but Yours be done,' you will receive much as you read these pages."--James W. Goll
Join respected prophetic leader James W. Goll for an incredible journey into the heart of the prophetic calling. This unique, hands-on 21-day guide will help you develop the intimacy with God essential to hearing His voice clearly. Reflection questions, devotional prayers and practical applications will help you proclaim His words faithfully--and step boldly into your calling...
James W. Goll has written a book that fairly breathes with God's spirit, and every time I finished a chapter I felt like I had moved closer to God's heart. The book is a very well-written, practical, and surprisingly moving guide for those seeking greater intimacy with God, and those seeking to understand the prophetic gift and how to hear God's voice. The book is designed to be read one day at a time over a 21 day period, and those who follow this plan will be led step by step into a closer relationship with Jesus. I have read a number of different books on spiritual gifts, and what stands out in this book is the wonderful focus on knowing Jesus as lover of our soul, as our best friend, prior to ever trying to use the spiritual gifts he has given us. When it comes to the gift of prophecy, I also appreciate the hands-on advice that he gives for those who want to grow in their gifting, with a constant focus on knowing the author and perfecter of our faith ever more intimately.

This book is one that I will no doubt be reading over and over during the coming years, and I am so glad that I took a chance on diving into a book by an author I've never before read. Those who are interested in learning more about the gift of prophecy, or who just want to grow closer to God and learn to hear his voice more clearly, should plan on getting a copy of this book. 4.5 out of 5 stars.

Book has been provided courtesy of Baker Publishing Group and Graf-Martin Communications, Inc. Available at your favourite bookseller from Chosen, a division of Baker Publishing Group.


Dr. James W. Goll is the cofounder of Encounters Network, a ministry to the nations. He has written fifteen extensive Bible study guides and is the author or coauthor of fourteen books, including The Coming Prophetic Revolution and Praying for Israel's Destiny. Goll is a contributing editor to Kairos magazine and speaks and ministers around the world. He lives in Franklin, Tennessee.