Deeply compelling: My review of "Afloat" by Erin Healy (and there's still time to win a ipad MINI!)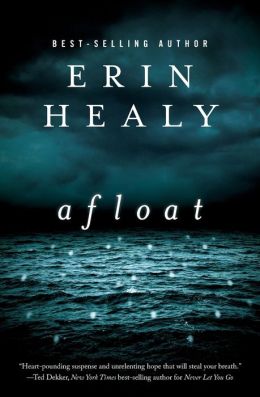 "Dark waters are rising. Who will stay afloat?"
Nestled in a sheltered cove lies a complex of unique floating apartments, providing housing for a group of eclectic residents that include single mom Danielle Clement and her son Simeon. The partially completed project is the brainchild of architect Vance Nolan, a man seeking to move beyond the tragedies of his past by bringing to life a vision of people living on the water. All is going according to plan until a sinkhole gives way. Death and destruction follow in increasing measure as torrential rains flood the cove, an unnatural darkness descends, and a man is murdered. No one knows what is real and who can be trusted.
Erin Healy has again crafted a masterpiece, a novel of suspense and supernatural wonder, where nothing is as it seems. "Afloat" reminds me a bit of "Lord of the Flies", where a people become stranded together and in that crisis moment, their true colours emerge. Like all great stories, Erin Healy's book has the hero and the villains, and yet she manages to create each character with such depth that you cannot help but feel empathy for them all in their state of lostness. I admire Vance as a person of light, a man seeking to overcome his past and faithfully follow God. But probably my favourite character is the blind-man, Zeke, a man who clearly hears from God through visions he is given and through God's voice impressed upon his heart. As such he is utterly fascinating, a character I wish I could meet in real life. Afloat can be read on many different levels, perhaps first of all as a novel that will simply entertain with its intriguing plot, scenes of suspense, and its spiritual flavour. And yet as my mind mulls over its message, I find that it is really written with depth, a reminder to us all that each of us is afloat, utterly lost, except where God intervenes and reaches out his hand and offers salvation through nail-scarred hands.
I walk away from this book with a deep appreciation for Erin Healy's skill in creating such a compelling read. 5 out of 5 stars.
Book has been provided courtesy of the publisher, Thomas Nelson, for the purposes of this unbiased review.
Erin Healy writes supernatural suspense novels from a Christian worldview. Her books explore what it means to be a spiritual being in a physical world, and a physical creature in a spiritual world. She is an award-winning fiction editor who worked with Ted Dekker on more than a dozen of his stories before their collaboration on KISS and BURN. She owns WordWright Editorial Services, a consulting firm specializing in fiction book development.
This biography was provided by the author or their representative.
Erin Healy
is celebrating the release of her latest novel
Afloat
(Thomas Nelson)
with an iPad Mini giveaway.
One winner will receive:
An iPad Mini
iTunes gift card
Afloat by Erin Healy
Enter today by clicking one of the icons below. But hurry, the giveaway ends on June 15th.
Winner will be announced on
Erin's blog
on June 17th. Save the date and click
HERE
to see if YOU won the iPad Mini!
Don't miss a moment of the fun; ENTER today. Tell your friends via FACEBOOK or TWITTER and increase your chances of winning. Visit Erin's blog on the 17th!