Book-clubs BEWARE: Ladies shall swoon in droves! My review of "It Happened At the Fair" by @DeeanneGist @litfuse
Check out my review of Deeanne Gist's latest, sure to leave women everywhere all aflutter...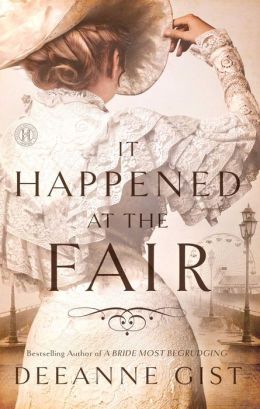 about the book...
A transporting historical novel about a promising young inventor, his struggle with loss, and the attractive teacher who changes his life, all set against the razzle-dazzle of the 1893 Chicago World's Fair.

Gambling everything, including the family farm, Cullen McNamara travels to the 1893 Chicago World's Fair with his most recent invention. But the noise in the Fair's Machinery Palace makes it impossible to communicate with potential buyers. In an act of desperation, he hires Della Wentworth, a teacher of the deaf, to tutor him in the art of lip-reading.

The young teacher is reluctant to participate, and Cullen has trouble keeping his mind on his lessons while intently watching her lips. Like the newly invented Ferris Wheel, he is caught in a whirl between his girl back home, his dreams as an inventor, and his unexpected attraction to his new tutor. Can he keep his feet on the ground, or will he be carried away?
I picked up Deeanne Gist's latest book certain that my manly brain was about to be overwhelmed with romance, and I wasn't entirely sure how much I'd even enjoy the book. Imagine my surprise, then, when I found myself hooked within only a few scenes, and I kept having to sneak away to read just one more chapter to see what would develop next! Now don't get me wrong: though this book is entirely clean of any inappropriate scenes, Deanne Gist still manages to create some moments that seem somewhat scandalous for that day and age and just ooze with romantic tension. As such I have no doubt that book-clubs across the nation will experience a sudden upsweep in swooning ladies. As for me, I of course felt nary a swoon. But the romance that develops between Cullen and Della takes place with numerous moments of hilarity that literally had me laughing out loud, and I enjoyed every moment of watching their relationship unfold.
I also absolutely loved the historical setting of this book at the 1893 Chicago World's Fair, a fascinating period of time to place characters in, characters I quickly grew to care about. All of the characters are wonderfully developed, but I especially enjoyed that of Cullen McNamara with his pesky allergies, his worrisome loss of hearing, his sense of duty to his family to help make the family farm prosperous, and his passion to invent things that barely anyone seems to believe in (with the exception of his amazing father!) The issue of deafness in that historical setting made for gripping reading, as we observe those who wanted to make children who were deaf as "normal" as possible by ripping them from their families for years and only allowing them to learn lip-reading. I am amazed how the author takes all of these different subplots and weaves them into an entertaining whole.
All in all, I can honestly say that out of all of Deanne Gist's books, this is my absolute favourite, hands down! Pick up a copy for yourself, and I'm certain you will agree. 5 out of 5 stars.
Book has been provided courtesy of the publisher, Howard Books (a division of Simon & Schuster) and the Litfuse Publicity Group, for the purposes of this unbiased review.
Deeanne Gist
—known to her family, friends, and fans as Dee—has rocketed up bestseller lists and captured readers everywhere with her very fun, very original historicals. She has received numerous RITA nominations, two consecutive Christy Awards, and rave reviews. Deeanne has a background in education and journalism and a degree from Texas A&M. She has written for People, Parents, and Parenting. She lives in Houston, Texas, with her husband and has four grown children. She has a very active online community on her website at IWantHerBook.com and at Facebook.com/DeesFriends.
Check out what other people are saying as part of the Litfuse tour at:
Buy the book from Amazon