Riveting & simply impossible to put down! My review of "Fear Has a Name" by Creston Mapes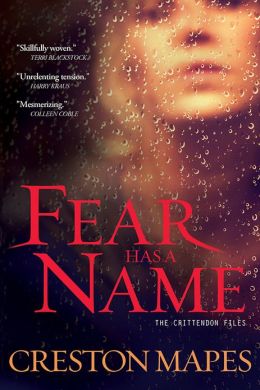 Check out a preview and my review of the latest book from Creston Mapes, courtesy of the publisher and CFBA:
........


This week, the
Christian Fiction Blog Alliance
is introducing
Fear Has a Name
David C. Cook (June 1, 2013)
by
Creston Mapes
ABOUT THE AUTHOR:
Creston has fond memories of his boyhood in Bath, Ohio, where he became enchanted with his future wife, way back in the fourth grade. His father, Bernie, owned and operated The Weathervane Furniture Shop in town. The whole family lived right upstairs in the century-old house known as "The Shop."
Creston studied journalism at Bowling Green State University, then began his writing career. During the past 30 years, he has worked as a reporter, corporate copywriter, creative director, freelance writer, and author.
ABOUT THE BOOK
From popular suspense author Creston Mapes comes another faith-building thriller, a tale that follows journalist Jack Crittendon as he fights to protect his family from a stalker's terrifying schemes, investigates a pastor's mysterious disappearance, and struggles to keep his faith amidst unthinkable fear.
With his family's safety on the line, Crittendon realizes there are secrets behind "Christian" walls--secrets with painful, deadly implications. He must find the faith to trust a God who allows inconceivable trials, and the courage to guard his family, with danger exploding at every turn.
Through it all--the sharp, character-driven writing for which Mapes is known--takes fans and new readers on an edge-of-your-seat journey that explores the harsh, far-reaching consequences of bullying and the Christian response to fear.
If you would like to read the first chapter of
Fear Has a Name
, go
HERE
.
my review.....
Riveting and simply impossible to put down, "Fear Has a Name" is a top-notch suspense thriller that left me wanting more. I'm not sure how I've missed out so far, but this is the first novel by Creston Mapes that I have had the pleasure of reading. After devouring this fast-paced read, I can hardly wait for the next addition to The Crittendon Files series! The characters are superbly drawn, causing me to come to have compassion even for the villain in the story. I was quickly swept up into the characters' lives, and as such felt their fear that much more palpably. And I can tell you that there are many moments in this story where your heart pace will rush along, beginning with the opening scenes which had me instantly thinking of how I would feel if a large man dressed in black suddenly crashed his way into our home with only my wife and children home. Yet amazingly, in the midst of the heightened suspense is a truly powerful portrayal of the deep love of Jesus, a sacrificial love that offers grace to every one of us. This is one of those books that not only leaves you feeling like you've been thoroughly entertained, but has you pondering the deeper things of life as well. I simply loved every part of this book, and hope that if you, like me, haven't yet given Creston Mapes a try, that you will certainly pick up a copy of this novel for yourself. It's a keeper.

I highly recommend this book and award it 4.5 out of 5 stars.

Book has been provided courtesy of the publisher, David C. Cook, and Christian Fiction Blog Alliance, for the purposes of this unbiased review.