Check out Melody Carlson's latest: "Lock, Stock and Over a Barrel" (UPDATED)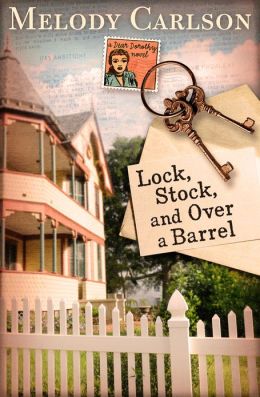 Check out a preview and my review of the latest book from Melody Carlson, courtesy of the publisher and CFBA:
........


This week, the
Christian Fiction Blog Alliance
is introducing
Lock, Stock and Over a Barrel
B&H Publishing Group (April 30, 2013)
by
Melody Carlson
ABOUT THE AUTHOR:
Over the years, Melody Carlson has worn many hats, from pre-school teacher to youth counselor to political activist to senior editor. But most of all, she loves to write! Currently she freelances from her home. In the past eight years, she has published over ninety books for children, teens, and adults--with sales totaling more than two million and many titles appearing on the ECPA Bestsellers List. Several of her books have been finalists for, and winners of, various writing awards.
She has two grown sons and lives in Central Oregon with her husband and chocolate lab retriever. They enjoy skiing, hiking, gardening, camping and biking in the beautiful Cascade Mountains.
ABOUT THE BOOK
With high hopes, Daphne Ballinger lands her dream job at The New York Times. But it's not long until writing about weddings becomes a painful reminder of her own failed romance, and her love of the city slowly sours as well. Is it time to give up the Big Apple for her small hometown of Appleton?
When her eccentric Aunt Dee passes away and leaves a sizeable estate to Daphne, going back home is an easy choice. What isn't easy is coming to terms with the downright odd clauses written into the will.
Daphne only stands to inherit the estate if she agrees to her aunt's very specific posthumous terms -- personal and professional. And if she fails to comply, the sprawling old Victorian house shall be bequeathed to . . . Aunt Dee's cats.
And if Daphne thinks that's odd, wait until she finds out an array of secrets about Aunt Dee's life, and how imperfect circumstances can sometimes lead to God's perfect timing.
If you would liketo read the first chapter of
Lock, Stock and Over a Barrel
, go
HERE
.
my review.....
"Lock, Stock, and Over a Barrel" is a fun start to a series that is sure to please fans of Melody Carlson, and features a character that I'm looking forward to revisiting in the future! Daphne Ballinger is one of those characters who is utterly real, one who seems stuck in the rut of her life until her Aunt Dee passes away and offers Daphne the chance to reclaim her life. Daphne is someone we can all relate to, as she has to live with regrets over past choices, but also realizes that she can move beyond her past and discover God's plan for her life. There is plenty of drama and action to keep the pages of this story turning, and the unique premise of the book makes for a fun read as Daphne is forced to wrestle with the clauses of the will regarding the estate that has been left to Daphne. I do have to say that as Daphne considered several different potential love interests, that there were times I felt like smacking her upside the head (most gently of course) as she waffled about the future of her relationship with one gentleman in particular. But Melody Carlson did an excellent job of resolving some of the subplots of this novel while leaving plenty of things open-ended to address in future books in the series. I, for one, am looking forward to see what happens next in Daphne's life, as she becomes ever more confident in who God has made her to be.

I strongly recommend this contemporary fiction read, and award it 4 out of 5 stars.


Book has been provided courtesy of the publisher and Christian Fiction Blog Alliance, for the purposes of this unbiased review.