A tale full of intrigue: My review of "Red Dawn Rising" by Sue Duffy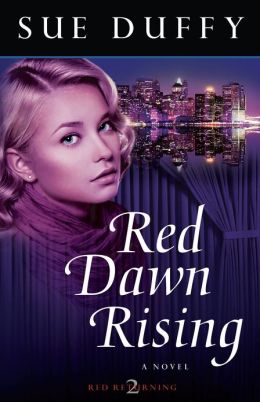 Cass Rodino was born to wealth and privilege, yet spends her days as a set designer on Broadway hiding behind a veneer that keeps everyone else at arms length, including long-time friend Jordan Winslow. But when a request from her mom to help determine whether her step-father is having an affair uncovers a web of secrecy, Cass and Jordan are unexpectedly drawn together into a deadly investigation. As they journey to warn famous pianist Liesl Bower that she is the target of an assassination attempt, they converge onto the path of a former KGB assassin seeking to halt attempts to resurrect the Soviet Union by a man known only as Architect. Soon, former enemies find themselves banding together to race to unstop a plot of pending disaster.
Sue Duffy returns with a second installment in the "Red Returning" series, providing a tale full of intrigue and twists and turns. I enjoyed reconnecting with Liesl Bower, introduced in the first book of the series, The Sound of Red Returning. Sue Duffy has done an excellent job at balancing the fast pace required for a suspense novel with strong characterization. Cass and Jordan and their unfolding relationship make for an interesting story arc, and I enjoyed watching their stories unfold as we discover their pasts and hope for their future together. Readers who are drawn to suspense novels will find much to appreciate in this book. I personally struggled a little bit to find the plot to be believable, to always understand the motivation behind why several of the villains would commit to the cause the way they did. Despite this I still found the story to be filled with plenty of excited and drama to keep the pages turning.
I award this story a rating of 3.5 out of 5 stars.
A copy of the book has been provided courtesy of the publisher, Kregel, for the purposes of this unbiased review.