A book I didn't even realize I needed: My review of "Men Counseling Men" by John D. Street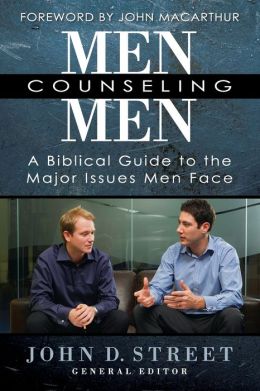 Under the guidance of John MacArthur, the biblical counseling program at The Master's College has received international acclaim, with instructors who are recognized for their exceptional ability to apply God's truth to real-life problems.
Men Counseling Men is an exciting new resource on how to counsel men about the difficulties they face. Written by the school's faculty members, it is an accessible, practical volume that will equip both trained professionals and lay people to provide solidly biblical help for men who are struggling with a variety of major life issues.
Readers will learn how they can offer hope and encouragement in relation to…
depression
parenting
anger
conflict resolution
physical affliction
sexual purity
marital relationships
rebuilding a marriage after adultery
God's Word possesses incredible power. This book will help men experience that power as they turn to the Lord for help.


Any real man would admit that we guys can be complex individuals, although of course we universally find women even more complex! Men today face challenges that men have always faced, but they are compounded by massive temptations that were not even a reality 20 years ago. For example, the explosion of internet porn has led to a whole host of addictions and temptations that are having a profound effect on men in the church, on their marriages, on their purity. Counseling men through areas of sexual purity, depression and hopelessness, adultery, anger, and other areas like controlling anger or difficulties parenting, requires great wisdom and knowledge. The book "Men Counseling Men" has been created as a resource for godly men to rise up and provide support to other men facing a variety of issues, providing a guide for solid biblical counseling. The book is arranged into helpful categories that make for easy reference, and the wisdom contained in the pages of this book is wonderful indeed. I love the focus that is taken of calling on the power of God's Word to revolutionize lives, and putting into action the reality that God really does have an answer for every issue we face! The appendix at the end that lists a variety of scriptures revelant to each challenge area (i.e. depression) is absolutely valuable!

As a man myself who is involved in leadership roles in the church, which involves coming alongside other men to support and love them through facing difficult issues, "Men Counselling Men" is the book I didn't even realize I needed. I am grateful to the author for providing such a valuable and practical resource. I strongly recommend this book for counselors and pastors involved in working with men, and award it 4.5 out of 5 stars.

Book has been provided courtesy of the publisher, Harvest House, for the purposes of this unbiased review.
John Street is the chair of the graduate program in biblical counseling at The Master's College and teaches pastoral counseling at The Master's Seminary. He contributes regularly to
The Biblical Counselor
and
The Journal of Biblical Counseling
and is a fellow, board member, and vice president of the National Association of Nouthetic Counselors (NANC).