A tender story of loss and love: My review of "The Chance" by Karen Kingsbury @KarenKingsbury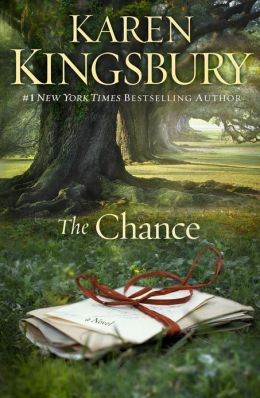 The day before a teenage Ellie moved from Georgia to California, she and her best friend Nolan sat beneath the Spanish moss of an ancient oak tree where they wrote letters to each other and buried them in a rusty old metal box. The plan was to return eleven years later, dig the box up, and read the letters. But now, as that date approaches, much has changed. Ellie has abandoned the faith she grew up with, her days consumed with loving her little girl and trying to make ends meet. Sometimes she watches TV to catch a glimpse of her old friend Nolan, now an NBA star, whose faith is known by the entire nation. But few know that Nolan's own personal tragedies have fueled both his faith and athletic drive. Despite his success, Nolan is isolated and lonely, plagued by a void in his heart that has remained since that night beneath the old oak tree with Ellie. For both Ellie and Nolan, the coming date is more than just a childhood promise. It's the chance to make sense of it all—the chance to find out if it's ever too late to find love again.



A tender story of loss and love, of forgiveness and second chances, Karen Kingsbury has woven a moving tale in "The Chance ", one that brought tears to my eyes more than once. The characters are beautifully developed and their interwoven stories are soul-stirring, as they deal with heart-ache and shame and the messy reality of being human and making mistakes. But they also point towards the power of God to take what is broken and to breathe new life. While I enjoyed getting to know the main characters Ellie and Nolan, my favorite character was Ellie`s precious daughter Kinzie, a young girl who had an intuitive grasp on life, a belief that Jesus is good and his love is enough for us all. Like Karen`s other novels, I love how the characters hear God`s voice speaking clearly to them, such as prompting them to pray. It`s a beautiful portrayal of God`s loving heart and how he is still in the business of orchestrating the events around us. Probably more than any other book Karen has written, this novel portrays that truth that though the evil one sets out to destroy us and keep us mired in despair, God is bigger and stronger and loving, and shines light into the darkness. "The Chance" illustrates the tremendous power of forgiveness, not just for the one who needs forgiving, but for the one who was wronged. Ellie says it best when she teaches Kinzie that "As soon as you forgive, you're free!" There is power in those words, indeed. The ending is definitely inspiring, and though things may get wrapped up a bit too neatly for some readers, it's hard to argue with a happy ending!

Sure to appeal to her faithful fans as well as acquire a host of new ones, "The Chance" finds Karen Kingsbury still the master of "Life-Changing Fiction". I award this book 4.5 out of 5 stars.
Book has been provided courtesy of the publisher, Howard Books (Simon & Schuster Canada), for the purposes of this unbiased review.
#1 New York Times bestselling author Karen Kingsbury is America's favorite inspirational novelist, with more than 20 million copies of her award-winning books in print. Karen has written more than fifty novels, ten of which have hit #1 on national lists. She lives in Tennessee with her husband Don and their five sons, three of whom are adopted from Haiti. Their daughter Kelsey is married to Christian artist Kyle Kupecky.