Simply irresistible to any child (or child at heart!): My review of "Amelia Bedelia Means Business" @HarperCollinsCa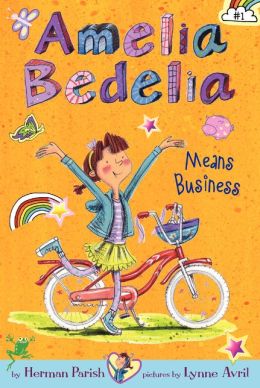 When Suzanne, the new girl in Amelia Bedelia's class, arrives at school riding the most beautiful bicycle in the whole world, Amelia Bedelia decides she wants a new bike, too. But Amelia Bedelia's mom says that a bike like Suzanne's is so expensive it will cost an arm and a leg! What? Amelia Bedelia doesn't want to give away one of her arms and one of her legs. She'll need both arms to steer her new bike, and both legs to pedal it. Amelia Bedelia decides to get a job, so that she can earn the bike money instead. She tries:
1. Helping out at Pete's Diner
2. Opening a lemonade stand
3. Entering a contest to win a prize
4. Baking treats and selling them
Will Amelia Bedelia ever get the bike of her dreams?


When I saw that a chapter book was being released featuring a younger version of Amelia Bedelia, the literal-minded housekeeper that I was introduced to way back when I was a child, I knew I had to get my hands on a copy. Although I primarily got the book for my own children, I must admit that I first read through "Amelia Bedelia Means Business" to see how this younger Amelia would measure up - and I can say that I am absolutely sold on this adorable Amelia! I laughed my way through this book, chuckling at Amelia's misunderstandings and mishaps as she tried her hand at various jobs attempting to earn money. Only Amelia can get into trouble the way she does! This book is chock full of vivid imagination, and the scenes simply spring to life. And I will even go out on a limb here and admit that at the end of the book, I had a tear in my eye. I'm not even entirely sure why, but it's probably because I have a daughter of the same age and I imagined how powerful a moment that the ending would be for my own daughter. I won't say more as I don't want to give it away. However, there is much to celebrate in this book - the importance of hard work and of not giving up, the blessing of friendship, and the wonderful and open relationship that Amelia has with her parents.

If you are looking for a fun, clean, and enjoyable read for your children, then Amelia Bedelia is just what you have been looking for. Make sure you pick up a copy of this book - your little ones will be glad you did, and you'll probably be just as entertained as they are! I highly recommend this book and award it 5 out of 5 stars.

Book has been provided courtesy of the publisher, HarperCollins Canada, for the purposes of this unbiased review.
Herman Parish was in the fourth grade when his aunt, Peggy Parish, wrote the first book about Amelia Bedelia. The author lives in Princeton, New Jersey.