Offers truth balanced by grace: My review of "The Uncomfortable Church" by Dr. Lawrence Brice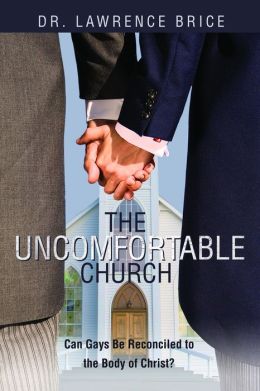 How is a Christian to view same-gender partners? And what is God's plan for love, sex, marriage, and ordination today? Is it possible for Bible-believing Christians and homosexuals to reconcile and move toward a place of understanding?
Veteran pastor, television host, and author (Confident Faith, Deep River Books), Dr. Larry Brice, says Yes . . . It's not only possible, but it's long overdue!
In this important work, The Uncomfortable Church, Brice faithfully interprets scripture to define traditional marriage. Simultaneously, he opens the doors for compassion and mission to a hurting and marginalized minority. Without shying away from difficult questions posed by revisionists' reinterpretation of scripture or the heartfelt appeal of homosexuals for inclusion and value in our contemporary world, Dr. Brice offers hope and support for gays and lesbians seeking to live a righteous life with the church's support.
"The Uncomfortable Church" was exactly the book I've been waiting for! I've long held the belief that the issue of homosexuality has the potential to either fragment the church, or to see the church rise up in unity with arms of love, to be the hands of God to a hurting people. As I long for the latter, I've been wanting to read a book that stands by the truth of scripture while still calling for the church to repent of a historical stance that often comes across as hatred. Dr. Lawrence Brice has delivered just such a book! I greatly appreciate his careful study of scripture from the Old and New Testament about the issue of homosexuality, and how he is not afraid to state the truth that the Bible clearly portrays the act of homosexuality as a sin. I also think that the chapter defending the traditional definition of marriage is expertly handled and offers a compelling argument for why marriage should be seen as between one man and one woman. And yet I absolutely loved his call for the church to offer grace and hope to those struggling with homosexuality, realizing that it is one sin among many and that we are all equally in need of grace and love. The book is well-written and laid out in a clear manner, and I am confident that readers will walk away from the issue feeling well-informed and ready to answer the call to offer Jesus' love.
There is much to take away from with this book, but I will leave you with my favorite quote: "While we affirm Scripture, we want to liberate a persecuted minority and embrace them in our hearts and fellowship. Yet we know God's heart is for us to still "speak the truth in love".... The key to our relationship with homosexuals is what conservatives have found to be the answers to our own deepest longings - the unmerited grace of Christ, the warm acceptance of God's people, and the wonderful healing of forgiveness".
I encourage Christians on both sides of the argument to consider picking up a copy of this book. I know that I will certainly be turning to it again in the future! I highly recommend "The Uncomfortable Church" and award it 4.5 out of 5 stars.
Book has been provided courtesy of the author and Graf-Martin Communications, Inc. Available at your favourite bookseller
With a B.A., B.Ed., M.Div., M.A. and Doctorate from the University of Toronto and the University of Edinburgh, Scotland, Dr. Larry Brice is an international speaker and ordained minister from the Presbyterian Church in Canada.
Having studied in Edinburgh under Prof. Tomas F. Torrance, Britain's greatest 20th century theologian, Larry is well positioned to speak and write on theological and ethical issues. Since 1981, he has served as a pastor in the Hamilton, Ontario area. In 1989, Larry published his first book, an apologetic called The Gamble of Faith, and then in 2003 introduced a national television broadcast on Crossroads Television System, Reachout for Life, seen by tens of thousands twice a week.
Now in almost ten seasons of Reachout for Life, Larry interviews national Christian leaders and ends each program with a well crafted eight minute commentary inviting the viewer to enter a personal relationship with the Lord Jesus Christ so powerfully presented in the interview. This experience on television has made Larry knowledgeable and ready to deal with significant issues of faith and morality on the international level.
Larry continues to pastor churches, Pine Ridge Church in Toronto, and currently, St. Paul's in Burlington, Ontario while serving God as a minister on Bible Study Tours, as a television host and an international evangelist. He and his wife Karen have two daughters, Alena and Erika, where they reside on the shores of one of Canada's Great Lakes, Lake Erie, in Ontario, Canada.