A story of hope: My review of "A Quilt for Jenna" by Patrick E. Craig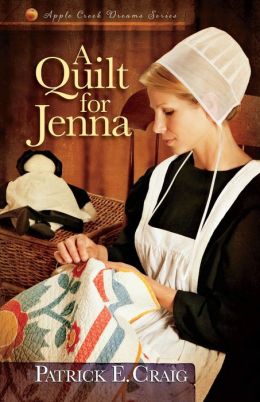 about the book...

Amish + Quilts = readers delight! And in this first book in Patrick Craig's Apple Creek Dreams series, readers will follow Jerusha Springer's journey out of tragic circumstances to a new life of hope.

Jerusha has spent months making the most beautiful quilt anyone in Apple Creek, Ohio, has ever seen, and she knows it's going to take first prize at the Quilt Fair in Dalton. The prize will be her ticket out of the Amish way of life--away from the memories of her dead daughter and her tormented husband. But on the way to the Fair, she gets caught in the Storm of The Century and Jerusha's driver crashes their car. While the driver goes for help, Jerusha is led by someone, or something, to the side of a lost little girl. By the time the storm clears, Jerusha finds there is a greater prize to be won than money and blue ribbons.




Just when I was ready to take a break from the Amish genre, I couldn't help but pick up a copy of "A Quilt for Jenna". I was utterly intrigued by the premise for the story, so I dove right in, and discovered a wonderful novel indeed! The author has cleverly interwoven a story told from multiple perspectives, of Jerusha struggling with the loss of her child and now caught in a life threatening snow storm, to scenes from World War II and her husband Reuben's struggle to forgive himself. The result is a story that moves along at a fine pace, offering a fascinating backdrop to explore themes of loss and bitterness, grace and forgiveness. The book is well-written and filled with some beautiful moments between the characters. I also enjoyed the glimpse the author offers into the Amish community, showing the beauty of a group of people who draw together to serve the Lord, while also cautioning about the risk that the Amish face to become all about rules and legalism instead of freedom in Christ. Ultimately, A Quilt for Jenna is a story of hope, that God can take tragedy and loss, and by his grace turn it into something good. That is a message that we can all learn from!

I was quite thankful to learn that this novel is but the first in a 3-novel series, and that I will be able to return to the world of these characters in Apple Creek. I strongly recommend this novel, and award it 4 out of 5 stars.


Book has been provided courtesy of the publisher, Harvest House, for the purposes of this unbiased review.
Patrick E. Craig is a lifelong writer and musician who left a successful songwriting and performance career in the music industry to follow Christ in 1984. He spent the next 26 years as a worship leader, seminar speaker, and pastor in churches, and at retreats, seminars and conferences all across the western United States. After ministering for a number of years in music and worship to a circuit of small churches, he is now concentrating on writing and publishing both fiction and non-fiction books. Patrick and his wife Judy make their home in northern California and are the parents of two adult children and have five grandchildren.