An intriguing take on the angelic realm: My review of "Angelguard" by Ian Acheson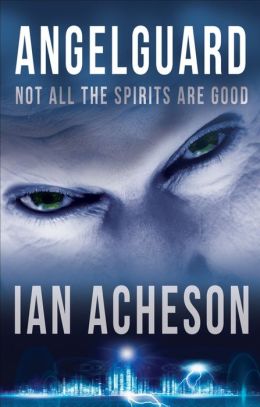 The world watches, devestated, as bombs wreak havoc over areas of London, Los Angelas, and Syndey. Three survivors struggle to understand why they survived the attacks when others did not not. Unknown to them, they are destined to play a key role in the ongoing war, one that transcends the physical realm as angels and demons battle around them. A European businessman who has sold his soul to the dark forces is determined to bring the wealthy nations to their knees. As God's faithful followers unite in prayer worldwide against the terror that has been unleashed, Jack, Loren and Thierry rise up with the Angelguard to push back the darkness.
Ian Acheson has offered up an intriguing take on the angelic and demonic realms and their interactions with humanity. Bringing to mind books like "This Present Darkness" by Frank Peretti, Angelguard is a book that brims with imagation as the author explores what it may look like if readers were given a glimpse into the unseen realm. I enjoyed the action packed scenes showing angels battling to protect humans, or responding to the power of prayer to bring about God's will. There are many times I've wished I could peel back that layer between humans and the spiritual world and see exactly what's going on! The descriptions in the book are well done, bringing to life the battles the author places the characters in. However, I did have a few challenges in reading the book. There were a few sections of awkward dialogue and sentence structure, and the way that different characters dealt with moments of deep grief didn't always feel authentic. Also, because the action took place across multiple continents and with a number of different angelic and demonic characters, there were many key players and names to keep straight, and so I found it harder to get into the story until about half-way through, at which time I felt more swept up into the action.
Overall, I know that readers who enjoy supernatural books and characters who interact with angels and demons will appreciate this latest contribution to the genre. I give the book a rating of 3 out of 5 stars.
Book has been provided courtesy of the publisher and Kregel blog tour services, for this purposes of this unbiased review.