God's grace, wonderfully portrayed: My review of "When the Morning Glory Blooms" by Cynthia Ruchti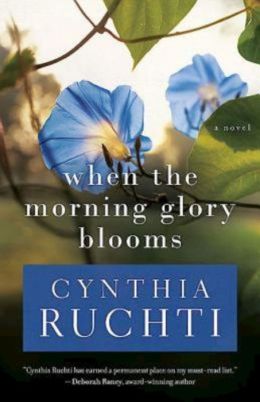 Check out a preview and my review of the latest book from Cynthia Ruchti, courtesy of the publisher and CFBA:
........
This week, the
Christian Fiction Blog Alliance
is introducing
When The Morning Glory Blooms
Abingdon Press (April 1, 2013)
by
Cynthia Ruchti
ABOUT THE AUTHOR:
Cynthia writes stories of hope that glows in the dark, merging her love for storytelling with inextinguishable hope for inexpressible hurts.
Cynthia spends her days diving into words, worship, and wonder and celebrating 40 years of marriage, three grown children, and five outrageously adorable grandchildren. One of her greatest joys is helping other writers grow in their craft. To that end, she served as the assistant director and a faculty member of the Quad Cities Christian Writers Conference, has served as worship and devotions staff for the Write-to-Publish conference, and teaches at other conferences as opportunities arise. She speaks to women's groups, at mother-daughter banquets, and for women's refresher days and retreats. It is her delight to serve on her church's worship team. Rather than "busy," she likes the term "active."
For 33 years, Cynthia wrote and produced the radio broadcast The Heartbeat of the Home. The scripted radio drama/devotional broadcast aired on as many as 50 radio stations and two cable/digital television stations over the years. Cynthia was the editor of the ministry's
Backyard Friends
magazine, a twenty-page, twice annual publication that reached 5,000 homes, churches, and parachurch outreaches.
ABOUT THE BOOK
Becky rocks a baby that rocked her world. Sixty years earlier, with her fiancé Drew in the middle of the Korean Conflict, Ivy throws herself into her work at a nursing home to keep her sanity and provide for the child Drew doesn't know is coming. Ivy cares for Anna, an elderly patient who taxes Ivy's listening ear until the day she suspects Anna's tall tales are not the ramblings of dementia. They're fragments of Anna's disjointed memories of a remarkable life. Finding a faint thread of hope she can't resist tugging, Ivy records Anna's memoir, scribbling furiously after hours to keep up with the woman's emotion-packed, grace-hemmed stories. Is Ivy's answer buried in Anna's past? Becky, Ivy, Anna--three women fight a tangled vine of deception in search of the blossoming simplicity of truth.
If you would like to read the first chapter of
When The Morning Glory Blooms
, go
HERE
.
my review.....
Cynthia Ruchti first caught my eye with her debut novel "They Almost Always Come Home", and I became an instant fan! So when I learned that she was coming out with another book, I knew I had to get my hands on a copy, hoping this book would be as good as her first. I am glad to report that "When the Morning Glory Blooms" is every bit as good as her first book! The characters have been beautifully portrayed, and the author fully explores the depths of human emotions through their eyes. I greatly enjoyed meeting the three different women portrayed in the pages of this story, appreciating their perspectives on life and what we can learn by spending time in their presence. My favorite character was definitely the elderly Anna Carrington, who was called by God in the 1890's to establish a home for unwed mothers. I absolutely loved the scenes where the pastor couple comes alongside her in grace and in prayer to support this radical call God placed on her life. I honestly could have read an entire story just about Anna! God's grace is wonderfully portrayed in this story, and readers are sure to turn the last page with a greater appreciation for what God has done for each of us.
Ruchti has written a book filled with deep emotion and yet one that also thoroughly entertains as she moves from character to character throughout the book. If you enjoy a blend of contemporary and historical fiction, then this is definitely the book for you. I give this book a rating of 4.5 out of 5 stars.

Book has been provided courtesy of the publisher and Christian Fiction Blog Alliance, for the purposes of this unbiased review.