Glimpse the tremendous love of Jesus set in Afghanistan: My review of "in the Land of Blue Burqas"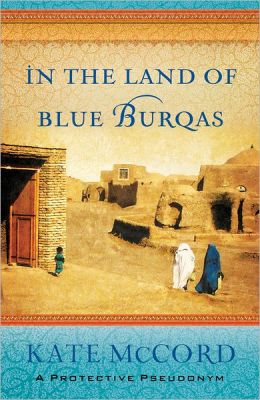 Author Kate McCord (a protective pseudonym), experiences the call of God to leave her comfortable life, sell everything, and travel to Afghanistan. Immersing herself into their culture and learning their language, she sets out to share the love of Jesus, and to empower Afghan women in the midst of their often oppressive culture. In The Land of Blue Burqas recounts her experiences over a five year period as she encounters both women and men in Afghanistan, hears their stories, and demonstrates how the radical message of Jesus can bring the Kingdom of God to the people of Afghanistan.
This is one of those books that you shouldn't open unless you plan on getting hooked from the first page. Within a few sentences, the author recreates the world she experienced until you feel like you are sitting there beside her, tasting the danger in the air as she moves throughout the land as a foreigner, as a woman, and as a follower of Jesus. Her tale is utterly intriguing, a powerful account of someone who is radically obedient to God's call on her life, and who finds herself in the midst of a culture where she loves the people too much to allow them to continue living without knowledge of what Jesus offers. What I most appreciate about this story is that the author doesn't come across as being judgmental, but just as sharing the facts of what she encountered, the good and the bad. Her love for the Afghani people is clear despite the fact that she is describing some terribly oppressive conditions of the people at the same time. It would be difficult to read this book and not come to have the same ache in our hearts for the condition of the people in Afghanistan. I agree with the author that "As long as Afphans understand God as a judge who only loves the obedient, they will never genuinely love one another. They'll never free one another to become the unique individuals God has created them to be". Although we may not read this story and feel called to Afghanistan ourselves (though some may!), this book allows us a glimpse into the heart of the people of Afghanistans and sounds a call for us to join in praying for freedom for the men and women and children who live there, the freedom that comes from knowing Jesus loves them unconditionally.
Entertaining books like this one, that are also true stories as well, are simply the best kind to read. Do yourself a favor and pick up a copy of this book. You will find it time well spent. 5 out of 5 stars.
A copy of the book has been provided courtesy of the publisher, Moody, for the purposes of this unbiased review.