A stirring historical read: My review of "When Jesus Wept" by the Thoenes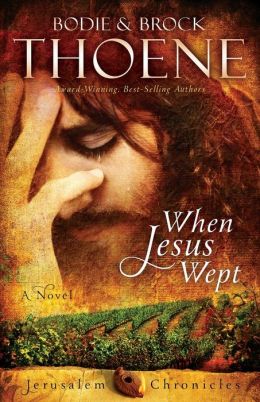 When Jesus Wept, the first novel in The Jerusalem Chronicles by bestselling authors Bodie and Brock Thoene, unfolds the turbulent times in Judea during Jesus' ministry, centering on the friendship between Jesus and Lazarus. With rich insights from vineyard owners and vine dressers, the Thoenes explore the metaphor of Jesus as the True Vine, harvesting the ancient secrets found in the Old Testament.
Bodie and Brock Thoene have created a stirring account of the life of Lazarus in their latest book, "When Jesus Wept". I have always been curious about how Lazarus and Jesus met and formed a relationship, and the authors have done a tremendous job of staying true to the Biblical account while exploring how their friendship may have formed. The result is a moving, entertaining story that is sure to please fans of Biblical fiction! The rich historical details that they have woven into the novel add a deeper meaning to the story as readers witness how radical Jesus was compared to the typical Jewish man of the day and in that culture. It is no wonder, then, that Lazarus was drawn to Jesus and his gentle spirit and his wisdom! Some of my favorite scenes included the conversations Jesus and Lazarus had about Jesus being the vine and about the pruning that occurs in our lives with a result of wonderful fruit. These scenes offer deep truths that can encourage all of us as we walk with God and yet experience hard times and so seek a purpose behind what we are experiencing. As a whole, the characters have been beautifully developed, and I love the way the Thoene's fleshed out not only Lazarus but his sisters Mary and Martha also. The story moves along well and is written with the Thoene's usual skilled pen.
If you are looking for a well-written fiction book set in a Biblical setting, then plan on picking up a copy of "When Jesus Wept". You will come away with a greater appreciation of Lazarus and his friendship with Jesus, and will not only be entertained but inspired as well. I award this book 4.5 out of 5 stars.
Book has been provided courtesy of the publisher, Zondervan, and Litfuse Publicity Group for the purposes of this unbiased review.
Bodie and Brock Thoene are bestselling authors of over sixty-five works of historical fiction. Their timeless classics have sold more than thirty-five million copies and won eight ECPA Gold Medallion Awards.
And don't forget to join the Facebook Author Chat Party!
Connect with the Thoenes, get a sneak peek of the next book in the Jerusalem Chronicles series, try your hand at a trivia contest, and chat with readers just like yourself. There will also be fun giveaways - gift certificates, books, and more!
So grab your copy of When Jesus Wept and join Bodie and Brock on the evening of the April 23rd for a chance to connect with the authors and make some new friends. (If you haven't read the book - don't let that stop you from coming!)
Don't miss a moment of the fun, RSVP today.