Written with rich detail: My review of "Rebekah" by Jill Eileen Smith @GrafMartin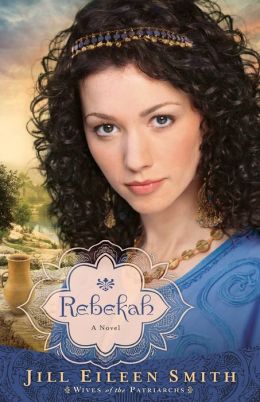 Can love heal the rift between two souls?
When her beloved father dies and she is left in the care of her conniving brother Laban, Rebekah knows her life has changed forever. Though she should be married by now, it's clear that Laban is dragging his feet, waiting for a higher bride-price to line his pockets. But then Rebekah is given a chance to leave her home to marry Isaac, a cousin she has never even seen, and her hope for the future is restored. Little does she know what a wondrous and heart-wrenching journey she is beginning.
As Rebekah experiences the joy of young love and the bitterness of misunderstanding and betrayal, her resolve is tested. When the rift between Isaac and her grows so wide it is surely too great to be mended, can she trust the God of Isaac's father Abraham to bridge the gap?
Join bestselling author Jill Eileen Smith as she fills in the blanks around the life of the enigmatic Rebekah.
"Rebekah" is a wonderful addition to the "Wives of the Patriarchs" series, a book written with rich detail and heart-stirring emotion. I love the way that Jill Eileen Smith has brought Rebekah and Isaac to life, staying faithful to the Biblical account and yet forming them into characters with depth and uniqueness. These characters and their stories in the Bible have always fascinated me, and looking through their eyes as portrayed in this story has given me even more to think about. Never before have I considered that in the cultural context of the day, it would have been very difficult for Isaac to accept that God spoke to and through Rebekah and that he would be asked to trust a vision a woman had been given from the Lord. The author has succeeded in unfolding the story in a natural manner that would help explain why Rebekah played the role she did in helping Jacob deceive Isaac into giving Jacob the blessing instead of Esau.
Despite being very familiar with this story, I can say that this book is filled with compelling drama, and it held my interest from the first page to the stirring conclusion. As with the first book in the series, "Sarai", the author has put her skilled pen to good use, resulting in a book that is a pleasure to read. I strongly recommend this book, especially to readers who enjoy excellent Biblical fiction, and I award it 4.5 out of 5 stars.
Book has been provided courtesy of Baker Publishing Group and Graf-Martin Communications, Inc. Available at your favourite bookseller from Revell, a division of Baker Publishing Group.
Jill Eileen Smith is the author of the bestselling Michal, Abigail, and Bathsheba, all part of The Wives of King David series, and of Sarai, book 1 in the Wives of the Patriarchs series. Her writing has garnered acclaim in several contests. Her research into the lives of biblical women has taken her from the Bible to Israel, and she particularly enjoys learning how women lived in Old Testament times. Jill lives with her family in southeast Michigan.