A character who can smell evil? Wicked! My review of "Unholy Hunger" by Heather James @KregelBooks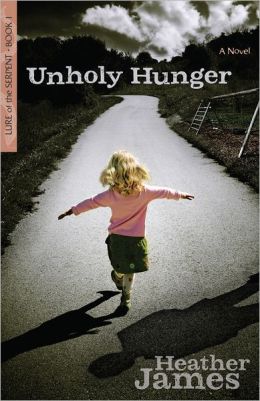 Successful lawyer Evelyn Barrett is comfortable in her roles as mother and wife and attorney, until she receives news that shatters her world. Her daughter has been brutally murdered. Evelyn is immediately consumed by anger and hatred, forgetting everything else in her life as she burns with one desire. Nothing will stop her from hunting down the murderer and punishing him for taking her precious daughter from her, even if she herself must die in the process. And then, she begins smelling evil....
Debut novelist Heather James offers up a fantastic start to a new series, The Lure of the Serpent, a story of murder and revenge with supernatural overtones. The writing crackles with tension, and I was immediately swept up into the heart-break and the suspense that is woven throughout the pages. Before I picked up the book, I was worried the book might drag if the reader was forced to constantly wallow in Evelyn's grief over the loss of her daughter. But if you have a similar fear, there is no need! The book moves at an unstoppable pace, and I found it incredibly difficult to put the book down for any reason. Evelyn is a unique character and I simply couldn't get enough of seeing the world through her eyes. As a parent myself, I could immediately relate to Evelyn as a parent, though I thank God I've never had to deal with anything like she has. The story of what happens to her daughter is absolutely disturbing, and I can't imagine having to live with such a thing! The added twist of being able to smell evil (I won't say more for fear of giving away too much) is a simply awesome trait to give a character!
I honestly find it hard to believe that this is the first novel Heather James has written. It's a keeper for sure! I'm anxiously awaiting the next book to emerge from Heather's imagination! Bonus points are awarded for being a debut novel, and I give this my highest recommendation of 5 out of 5 stars.
Book has been provided courtesy of the publisher, Kregel, for the purposes of this unbiased review.
about the author....


Heather James
is a practicing attorney and contributing columnist for the Bakersfield Californian newspaper, where she writes on marriage, family, and parenting matters. This is her first novel.