Just what your kids were looking for: My review of "The New Pony" by Catherine Hapka, Anne Kennedy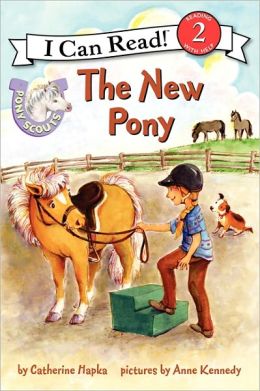 The Pony Scouts are becoming better at riding with every lesson. But just when they think they've seen it all, a new horse arrives on Jill's farm—one who hasn't been ridden before! Taffy is a beautiful palomino pony that needs Jill's help. With a little patience and a lot of love, Jill and the Pony Scouts will make Taffy a member of the family.

This is the seventh title in the Pony Scouts I Can Read series, making learning to read a galloping good time.
I don't know if your girls are anything like mine, but if they are then they love anything and everything to do with horses. So when I placed a copy of "Pony Scouts: The New Pony" in their hands, they were super excited! We immediately dove into the story, and both of my girls fell in love with the Pony Scouts and the new palomino pony that arrived on the farm. They even learned a new term about what it means for a pony to be "green", something they found quite funny when they realized it refers to an untrained horse! The illustrations are lively and colorful, and perfectly complement the story. The book is written at the Level 2 of the "I Can Read" stage of reading, and my grade 1 daughter was able to read most of the book with some prompting. The story captured all of our attention throughout, and my children have read the story numerous times since it has arrived on our doorstep.

If you are looking for a fun, well-written children's book for your developing reader, then look no further than this latest addition to the Pony Scouts series. I and my children strongly recommend the book and award it a rating of 4 out of 5 stars.

Book has been received courtesy of the publisher, HarperCollins, for the purposes of this unbiased review.
about the author & illustrator...
Catherine Hapka is the author of many books for children of all ages. She is too tall to ride ponies, though her mare, Gerri, still looks like one. Catherine takes riding lessons twice a week and lives on a farm with Gerri, three goats, a small flock of chickens, and too many cats.