A fitting conclusion to an excellent series: My review of "The Tempted Soul" by Adina Senft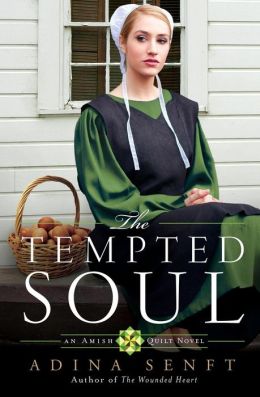 about the book...
Carrie Miller longs for children, but after ten years of marriage, that blessing eludes her. So she fills her days with caring for her home, making artistic gifts and fancy cakes, and caring for her flock of chickens, every one of whom has a name and who under no circumstances will go in the soup pot. Carrie also finds support in the friendship she shares with her two best friends Amelia and Emma, and relishes the weekly afternoons they share working on their quilts.
Carrie and her husband Melvin love each other, and together have survived many lean years. If not for the kindness of their church community, they would have had to miss more than one meal a day. But now, Melvin has found work that finally provides a good living. Carrie hopes that having more to eat will finally allow them to start a family. Yet month after month, they remain childless. So when Carrie overhears two English women talking in the fabric store one day about medical options available to non-Amish women in her situation, she takes it as a sign from God. Melvin and the bishop see it differently, however. Is it really God's will that she pursue this, or is her longing to be a mother tempting her to stray from her Amish beliefs?
The third book in the "Amish Quilt" series reunites readers with the wonderful characters of Carrie, Amelia, and Emma. Although all the books explored some difficult themes, I found that the The Tempted Soul's focus on issues of infertility made for some deep moments with the characters. This installment in the series didn't contain quite the level of humor for me that the first two books in the series did, but there were plenty of moments that left me smiling as these characters grappled with the mess of humanity while in an Amish setting. The voices of the characters continue to have an authentic Amish tone to them, and I greatly enjoyed the author's portrayal of life in their community as they wrestled with their Amish beliefs. Ultimately, these characters bring to life the beauty of submission, even when you don't always agree entirely with the situation. My faith was challenged by these Amish characters who display love and forgiveness and turning the other cheek. I'm not sure that I'd be able to be Amish myself, but I continue to be surprised by how much I can enjoy a good Amish book - and this is one of them. There is much to celebrate and much to learn from the Amish community, and these characters are so real to me now that I wish they lived next door!

I strongly recommend this book as well as the first two contributions in the series, and award it 4.5 out of 5 stars. If you haven't yet had a chance to read a novel by Adina Senft, then I encourage you to seize this opportunity and give this series a try. No doubt you'll be glad you did!


Book has been provided courtesy of the publisher, Faithwords, for the purposes of this unbiased review.

Adina Senft grew up in a plain house church and was often asked if she was Amish. (The answer was no.) She holds an MFA in writing popular fiction from Seton Hill University in Pennsylvania, where she is part of the adjunct faculty. Between books, Adina enjoys playing the piano and Celtic harp, making historical costumes, and spoiling her flock of rescued chickens.