Instill godly truth in your preschooler with this excellent choice: My review of "The Preschooler's Bible" by Beers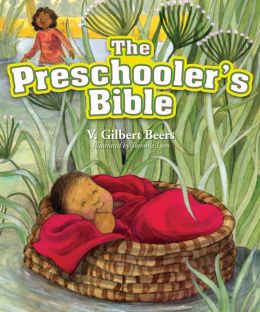 about the Bible....
The Preschooler's Bible by Gill Beers returns to delight a whole new generation with beautiful new illustrations by Tammy Lyon.
First published in 1994, the classic, best-selling The Preschooler's Bible offers the ideal follow-up to The Toddler's Bible. Over 100 stories include classics, such as the flood, and less-often told stories, such as Solomon's request for wisdom.
With thoughtful questions and captivating writing, this book suits story time, bedtime, or family devotions. And vibrant new illustrations by Tammy Lyon add even more opportunity for Bible discovery. More than a Bible story book, The Preschooler's Bible offers parents and Church workers a resource that takes little hearts beyond just hearing the Bible's stories to learning to discover God's truths for themselves.
Filled with warm and colorful illustrations, and featuring all of your preschooler's favorite Bible stories, The Preschooler's Bible is a wonderful option for you to introduce to your children aged 3 to 5. My own children love looking through the beautiful illustrations accompanying the stories, especially enjoying how the illustrator has depicted Jesus, both as a child and as an adult. The stories are written in simple language that children will easily follow, and I especially enjoyed how the author would often add a question into the story, one that draws the children into the events that are happening. For example, in the story of Jesus feeding the 5000, the story starts with a question of "How would you like to make lunch for 5,000 people? That's a lot of lunch, isn't it?" Parents who pause in the story to actually allow their children to answer the questions will find that their children are really connecting with what is being read to them. The stories are also written in such a way as to leave the little listener with a take-away truth,such as teaching children that God will help us when we need him (such as in the story of Samson), or the importance of thanking God (such as in the story of the 10 lepers where only one returns to thank Jesus for healing them). What I most love about this children's Bible is that it clearly depicts Jesus' work on the cross, when he died to take away our punishment, out of his great love for us. Children can listen to the stories and come away with a solid beginning understanding of God's amazing love and power and grace. What more could a parent ask for?
If you are looking for a children's Bible that will both entertain your children while teaching them godly values and truths, then consider The Preschooler's Bible. You will be glad you did! 4.5 out of 5 stars.
A copy of this Bible has been provided courtesy of the publisher, David C. Cook, for the purposes of this unbiased review.
about the author & illustrator....
V. Gilbert Beers (Th.D., PhD.) has spent a lifetime encouraging readers to delight in the Scriptures through his over 140 books, ranging from children's Bibles to reference works. The Victor Journey through the Bible is the product of nine visits to the Holy Land, including a research trip to take photographs for this work. He is currently president of Scripture Press Publications, Inc.
Dr. Beers has been happily married for 53 years and is the father of five grown children. Dr. Beer is also the grandfather of eleven!
Tammie Lyon is the award winning illustrator of numerous picture books for children. Let's Hear It For Almigal was just awarded the Mom's Choice Award Gold Medal Winner for 2012. Tammie lives in Cincinnati, Ohio with her husband Lee, and loves spending the day in her studio with her dogs Gus and Dudley. She began her love of illustrating at a very young age while drawing at the kitchen table with her dad. She has fond memories of sitting for hours drawing things around the house and later presenting them as gifts to her mother. Since she was an only child, drawing became a favorite form of self-entertainment.