Filled with deep emotion: My review of "Ordinary Grace" by William Kent Krueger @WmKentKrueger @SimonSchusterCA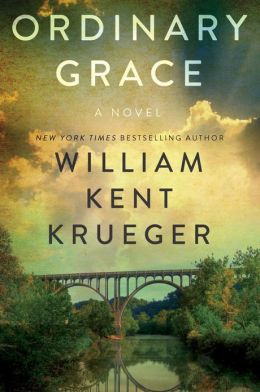 "That was it. That was all of it. A grace so ordinary there was no reason at all to remember it. Yet I have never across the forty years since it was spoken forgotten a single word."
New Bremen, Minnesota, 1961. The Twins were playing their debut season, ice-cold root beers were selling out at the soda counter of Halderson's Drugstore, and Hot Stuff comic books were a mainstay on every barbershop magazine rack. It was a time of innocence and hope for a country with a new, young president. But for thirteen-year-old Frank Drum it was a grim summer in which death visited frequently and assumed many forms. Accident. Nature. Suicide. Murder.
Frank begins the season preoccupied with the concerns of any teenage boy, but when tragedy unexpectedly strikes his family— which includes his Methodist minister father; his passionate, artistic mother; Juilliard-bound older sister; and wise-beyond-his-years kid brother— he finds himself thrust into an adult world full of secrets, lies, adultery, and betrayal, suddenly called upon to demonstrate a maturity and gumption beyond his years.
Told from Frank's perspective forty years after that fateful summer, Ordinary Grace is a brilliantly moving account of a boy standing at the door of his young manhood, trying to understand a world that seems to be falling apart around him. It is an unforgettable novel about discovering the terrible price of wisdom and the enduring grace of God.
I must admit that I absolutely treasure stories told from the perspective of a child, young or old. I love the naive eyes through which children look at the world, but also deeply feel their heartache when they encounter hurts and darkness as well. Ordinary Grace swept me up into the world of thirteen-year-old Frank Drum, and it is a story that held me in its grip until the very last page. Krueger has painted a unique and likable character in Frank, a young man who is all boy, and one who wrestles with death and dying, seeking to understand the conflicting feelings within him, struggling to define his own beliefs about God and the meaning of life. The characters are richly drawn, and the story unfolds with the sensitivity of a skilled writer, making you forget about the world around you as you find yourself completely absorbed by Frank's tale. The scenes flow effortlessly from one to another, invoking deep emotion that left me battling tears on several occasions. The author explores difficult themes within the book, themes of grief and loss, of suicide and murder, but also casts light on the beauty of faith, of hope, of love. Several times I paused to read a passage over, enjoying the deep truth that is conveyed, such as when Frank's father states "In your dark night, I urge you to hold to your faith, to embrace hope, and to bear your love before you like a burning candle, for I promise that it will light your way. And whether you believe in miracles or not, I can guarantee that you will experience one. It may not be the miracle you've prayed for. God probably won't undo what's been done. The miracle is this: that you will rise in the morning and be able to see again the startling beauty of the day".

Ordinary Grace is a novel that offered more than I expected, exquisitely portraying the beauty and power of grace. I highly recommend this extraordinary read and award it 5 out of 5 stars.
A copy of this book was provided by the publisher, Atria Books, a division of Simon & Schuster, for the purposes of this unbiased review.
William Kent Krueger is the award-winning author of twelve previous Cork O'Connor novels, including Northwest Angle and Trickster's Point, as well as the novel Ordinary Grace. He lives in the Twin Cities with his family. Visit his website at WilliamKentKrueger.com.