Free ebook for women seeking healing from abortion: "Her Choice to Heal" by Sydna Mas
Today publisher David C. Cook is offering a free ebook about recovering from Abortion: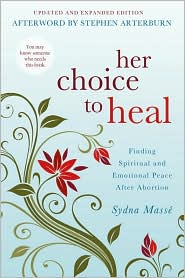 "What do 33% of American women have in common? They've experienced abortion.
You might be one of these women. Or maybe it's your friend, sister, coworker, or the woman sitting next to you at church. Regardless, post-abortive women are in pain, and at some point, most will experience post-abortion syndrome (PAS), a form of post traumatic stress disorder. But they may never talk about it. Many are silent because they are filled with shame, grief and guilt, afraid of judgment and condemnation. Few realize that peace is attainable through Christ's mourning process and the knowledge that because of His grace, they will reunite with their lost loved ones in Heaven.
Her Choice to Heal is designed to help women find a way to God's healing after this devastating choice. Written by a post-abortive woman, it includes testimonies of strength, healing and hope. Sydna compassionately leads you on the difficult journey through denial, anger, and grief, to forgiveness, redemption, and letting go. Her Choice to Heal offers a roadmap to healing - practical suggestions, resources for help, space to journal, with the encouragement and hope found in Christ alone".
Download from Barnes & Noble or Amazon.com:
Or From Christianbook.com: