Warning: Expect tears! My review of "Take a Chance on Me" by Susan May Warren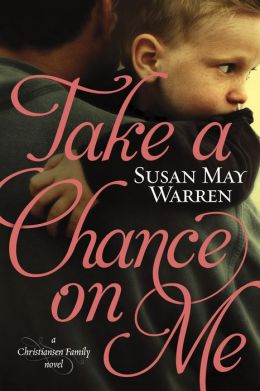 \
Darek Christiansen is almost a dream bachelor—oldest son in the large Christiansen clan, heir to their historic Evergreen Lake Resort, and doting father. But he's also wounded and angry since the tragic death of his wife, Felicity. No woman in Deep Haven dares come near.
New assistant county attorney Ivy Madison simply doesn't know any better when she bids on Darek at the charity auction. Nor does she know that when she crafted a plea bargain three years ago to keep Jensen Atwood out of jail and in Deep Haven fulfilling community service, she was releasing the man responsible for Felicity's death. All Ivy knows is that the Christiansens feel like the family she's always longed for. And once she gets past Darek's tough exterior, she finds a man she could spend the rest of her life with. Which scares her almost as much as Darek learning of her involvement in his wife's case.
Caught between new love and old grudges, Darek must decide if he can set aside the past for a future with Ivy—a future more and more at risk as an approaching wildfire threatens to wipe out the Christiansen resort and Deep Haven itself.
From the heart-breaking mother's letter that greets the reader, all the way to the final page, Susan May Warren's latest book provides an entertaining, intensely emotional ride. Darek and Ivy are characters who are painted with complexity and depth, and captivate with their relationship that unfolds with moments of humor, misunderstandings, and ultimately grace. As much as I loved their story, however, I especially enjoyed the story-line of Jensen Atwood, a man sentenced to 3 years of community jail for a crime he didn't commit. The healing and reconciliation that occurs in his life is a beautiful picture to behold, and the end of the book left tears painting the back of my eyelids. The romantic side of the book will likely appeal to female readers more than it did to me, but I did enjoy the various relationships that developed and felt they did so in a natural manner.
"Take a Chance on Me" is a well-written story that features expertly developed characters, solid prose, and a faith that will inspire readers to live for Jesus and seek a life of grace and reconciliation. It is a book that will appeal to a wide variety of readers, and especially to those who love contemporary novels that celebrate faith, romance, and an intriguing plot. I award this book a solid recommendation and a rating of 4 out of 5 stars.
An advanced readers copy has been provided by the publisher, Tyndale House, for the purposes of this unbiased review.
Growing up in Minneapolis and attending the U of MN, I learned to love city life, although I'm a woodsy girl at heart. Or maybe I'm an adventurer -- having lived and traveled all over the world, including Siberia Russia as a missionary for eight years. Probably that's why my characters can't sit still, and seem to get into one scrape after another -- they're too much like me! I love God, my family, my country, my church, and feel privileged every day to be able to write stories, that I hope inspire and entertain!