Left me longing for just one more chapter: My review of "The One Good Thing" by Kevin Alan Milne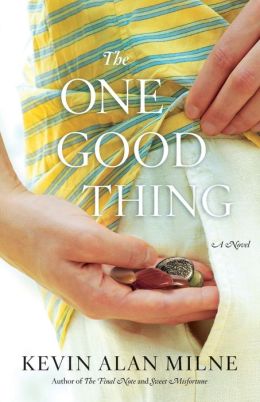 For as long as Halley Steen has known her husband Nathan, he has carried a handful of stones in his pocket. Each day he uses those stones to remind him to follow the Golden Rule, moving a stone from one pocket to the other with each act of kindness. So it's not unusual that Nathan stops to help a stranger on the side of the highway while on his way to his son's football game one Friday evening. But that one act will change all of their lives forever, when a car hydroplanes off the road, killing Nathan instantly.
As Halley and her children Ty and Alice struggle with their grief, Nathan's spiritual legacy lives on. A Facebook page appears, where countless stories about Nathan's selfless acts are shared. But among them is one that stands out, from a woman who says that Nathan saved her life. Neither Halley nor her children have ever heard of Madeline Zuckerman. But soon Halley discovers years of e-mails from this woman to her husband on his computer that refer to "our little girl." How could her husband have kept the secret of this other child for their entire marriage? Why had he lied to her? Was he not the man she thought he was?
Only thirteen-year-old Alice maintains unwavering faith in her father. She knows there's an explanation. When she sets out to find Madeline and learn the truth, she will start to unravel the complex story of The One Good Thing Nathan Steen did that had the greatest impact of all.
I challenge you to read this book and not to shed a tear at some point! Written with deep emotion and filled with many poignant moments, "The One Good Thing" is a book that will both inspire you and leave you thinking deeply about secrets and lies and the power of the truth. Nathan Steen is a character who, in the story, has set a tremendous example not only for his family but for countless people who he touched by his acts of kindness each and every day. He would be at risk of being a character who is "too perfect", except the author cleverly wove the theme of selflessness into a story that also deals with the after affects of discovering that someone was holding onto a life-changing secret. The story alternates between the viewpoints of several different people, but flows together very well into a truly entertaining and enjoyable whole. I enjoyed each of the different characters whose eyes the readers get a chance to look through, seeing the story from multiple perspectives, and felt they were developed well. Kevin Milne is a gifted author, one who writes with heart-stirring prose, throws in a bit of mystery, tackles deep subjects like bullying and grief and abuse, and leaves the reader longing for just one more chapter!

This is the first novel written by Kevin Milne that I have had the pleasure to read, but it certainly will not be the last. I strongly recommend this story, particularly those who love a good contemporary novel, and award it 4.5 out of 5 stars.


Book has been provided courtesy of the publisher, Center Street, for the purposes of this unbiased review.

Kevin Milne was born in 1973 in Portland, Oregon. Although Oregon was always considered home, he also spent portions of his childhood in Virginia, Hawaii, and California. In 1991 he graduated from Sherwood High school, followed by undergraduate studies at Brigham Young University, then an MBA from Pennsylvania State University. As an adult he has lived in such varied places as Vermont, New Jersey, Nevada, Austria, and Croatia.
Since beginning his writing career in 2007, Milne's novels have been reproduced in 16 languages worldwide. His first published work, "The Paper Bag Christmas", was converted to a stage play in 2011.
Today, Kevin resides once more in his home town of Sherwood, Oregon. He and his wife, Rebecca, were married in Washington DC in 1995, and are the proud parents of five children.