Fantastic giveaway & My review of "So Shines the Night" by Tracy L. Higley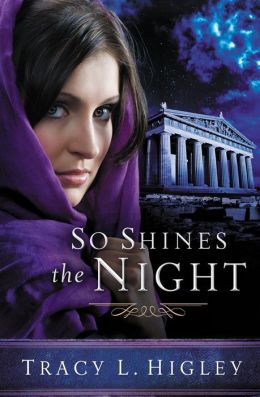 "The powers of the evil one are gathering like storm clouds on the horizon..."


After Daria's attempt to rescue a young girl from a group of sorcerers goes awry, she is forced to flee for her life with a wealthy merchant named Lucas. Widowed and without a family to support her, Daria finds herself with no other options than to remain in Ephesus, accepting Lucas' offer to work as his tutor. However, her initial hopes of Ephesus offering her a fresh start and a second chance are dashed when she discovers an evil undercurrent to the city, one seeking to ensnare Lucas. At the same time, Daria becomes drawn to the followers of the sect called the Way, a people receiving ire from the people of power and influence in Ephesus, connected to its goddess cult. The situation reaches a boiling point as thousands in the city protest the Christian influence. When Lucas is arrested for a heinous crime, Daria becomes focused on finding a way to prove his innocence while seeking to help the Christians she has come to care for.

Tracy L. Higley continues to bless me with her beautiful prose, her riveting plot-lines, and the inspiration that her stories provide to my faith. So Shines a Night is absolutely a pleasure to read. Her wonderful grasp of the English language is balanced by action-packed plots and tense scenes that made it impossible to put the book down! Her careful research and attention to detail emerge the reader in the historical setting, and Ephesus provides a fascinating backdrop for Daria and Lucas as they face an evil that can only be beaten by the power of the name of Jesus. The characters are complex and realistic, and their struggles against evil both within themselves and from the outer world make for great reading. I am positive that readers who enjoy historical fiction with a Biblical element will be greatly impressed with "So Shines the Night". Not only will they be entertained by the story, but they will come to have a greater appreciation for the book of Ephesians and Paul's writings about our battles not being against flesh and blood but against the rulers of the air. There is much to celebrate in the pages of this story, and I award it 4.5 out of 5 stars.


Book has been provided courtesy of the publisher, Thomas Nelson, and the Booksneeze program, for the purposes of this unbiased review.
Tracy L. Higley travels the world, brings back adventure and writes novels that transports readers to ancient times and places.
Visit her website at TracyHigley.com or meet up with her on Facebook at facebook.com/tlhigley.
From Amazon.com or Barnes&Noble.com


AND NOW FOR THE GIVEAWAY....
I am giving away 1 copy of "So Shines the Night" to readers from the U.S. and Canada, courtesy of the publisher, Thomas Nelson.
You can get 1 entry into the giveaway for each task you perform:
1. Become a follower of my blog (through Google Followers or Networked Blogs) then leave a comment confirming you became a follower. If you are already a follower, just leave a comment that you already follow and I'll give you 1 entry for that.
2. "Like" my Facebook page, and let me know you did so in a comment. (The link is at the top of the webpage). Let me know if you've already liked it, and I'll give you an entry.
3. Post about the giveaway on your own blog or on twitter or facebook and leave me a comment. You get 1 entry for each method of spreading the word!
AND/OR
4. Leave a comment answering the following question: "What is the best Biblical fiction book you've ever read thus far?"
++ Please include your email address in your comment so I can contact you to arrange to get the book in the mail to you.
That's all there is to it! Contest Ends March 31, 2013