Steeped in romance: My review of "Moonlight Masquerade" by Ruth Axtell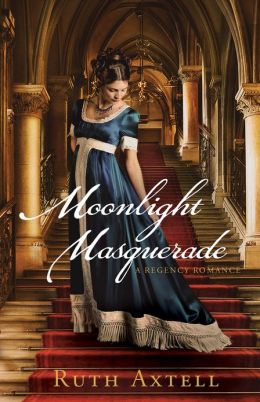 Sometimes it is hard to tell if you are the cat or the mouse.

Lady Céline Wexham seems the model British subject. French by birth but enjoying life in 1813 as a widowed English countess, she is in the unique position of being able to help those in need-or to spy for the notorious Napoleon Bonaparte.

When Rees Phillips of the British Foreign Office is sent to pose as the countess's butler and discover where her true loyalties lie, he is confident he will uncover the truth. But the longer he is in her fashionable townhouse in London's West End, the more his staunch loyalty to the Crown begins to waver as he falls under Lady Wexham's spell.

Will he find the proof he needs? And if she is a spy after all, what then will he do?



Steeped in rich historical detail and delightful intrigue, Moonlight Masquerade is sure to please fans of regency romance. Ruth Axtell has created fun characters in the form of Lady Celine and Rees Phillips, and they share plenty of moments steeped in romance. The development of their relationship is fun to watch unfold. I also quite enjoyed their conversations about faith, such as when Rees notes "I have lived long enough to know that anything that is not in Christ leads to death - wheather physical or spiritual makes little matter. My life only has meaning when I am walking with him". Such words offer profound truth, and yet they fit naturally into the story without coming across as preachy.

I must state that though the book started off well, I felt it dragged a little for me in several places as I got further into the novel. I say that with a grain of salt, as I am a male reviewer commenting on a historical romance. I just found that some of the scenes of danger were resolved a little too easily for a novel that features spying and uncertain loyalties. I did, however, enjoy many of the supporting cast of characters, who brought some extra life to the scenes.

Overall, I give this book a rating of 3 out of 5 stars.


Book has been provided courtesy of Baker Publishing Group and Graf-Martin Communications, Inc. Available at your favourite bookseller from Revell, a division of Baker Publishing Group.