Beautifully written: My review and GIVEAWAY of "Home Run" by @travisthrasher
Check out my review of "Home Run", a novelization by Travis Thrasher based on the movie by the same name. And be sure to enter a giveaway for your own copy!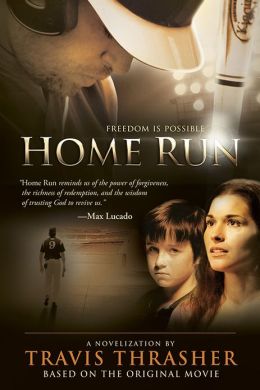 Baseball star Cory Brand knows how to win. But off the field, he's spiraling out of control. Haunted by old wounds and regrets, his future seems as hopeless as his past.

Until one moment-one mistake-changes everything. To save his career, Cory must go back to the town where it all began. His plan is simple: coach the local baseball team, complete a recovery program, and get out as fast as possible. Instead, he runs headfirst into memories he can't escape ... and the love he left behind.


Faced with a second chance he never expected, Cory embarks on a journey of faith, transformation and redemption. And along the way, he discovers a powerful truth: no one is beyond the healing of God. A novel based on the major motion picture starring Vivica A. Fox and Scott Elrod, Home Run is an inspirational story of the hope and freedom God offers each of us.



Beautifully written and achingly real, "Home Run" will sweep you up into the power of a well-told story, and it just may change your life at the same time! Cory Brand is a character who broke my heart from the first pages of the story, and who I amazingly continued to care about despite the fact that there were moments I just wanted to give him a good shake. Travis Thrasher, and the creators of the movie that this novel is based on, have created a complex character in Cory, one who perfectly illustrators how broken our lives can become and how addictions can take over every part of a person. Cory could be your neighbor, your parent, your spouse, your friend, everyone you know who is struggling with pain and heartache and trying to cope with life. It may even be you! However, "Home Run" not only paints a portrait of what a broken life looks like, but also reminds us of the power of God's grace, of God's ability to take a broken piece of clay and mend it back together with his love. It's a message that needs to be told, and Travis Thrasher has told it well!
Wonderful prose and a storyline that will invoke deep emotion combine to create an unforgettable story in "Home Run", a story worth celebrating. Pick up this book - you will be glad you did. And I don't know about you, but I'm planning on watching the movie version too!
5 out of 5 stars.
Book has been provided courtesy of the publisher, David C. Cook, for the purposes of this unbiased review.
Critically acclaimed and creatively diverse novelist Travis Thrasher has made a career out of defying expectations.Writing stories that have moved, haunted and provoked readers, Thrasher has told tales in a variety of genres. His one common theme is brokenness, and his one common tactic is surprise. He lives with his wife and three daughters in a suburb of Chicago.
For more information on Travis, go to www.travisthrasher.com
This biography was provided by the author or their representative.
AND NOW FOR THE GIVEAWAY....
I am giving away 1 copy of "Home Run" to readers from the U.S. and Canada, courtesy of the publisher, David C. Cook
You can get 1 entry into the giveaway for each task you perform:
1. Become a follower of my blog (through Google Followers or Networked Blogs) then leave a comment confirming you became a follower. If you are already a follower, just leave a comment that you already follow and I'll give you 1 entry for that.
2. "Like" my Facebook page, and let me know you did so in a comment. (The link is at the top of the webpage). Let me know if you've already liked it, and I'll give you an entry.
3. Post about the giveaway on your own blog or on twitter or facebook and leave me a comment. You get 1 entry for each method of spreading the word!
AND/OR
4. Leave a comment answering the following question: "Do you know anyone who struggles with addiction issues? How have you supported them?"
++ Please include your email address in your comment so I can contact you to arrange to get the book to you.
That's all there is to it! Contest Ends April 5, 2013