A great children's product for Easter: My review of "my very first Easter Story Sticker Booker"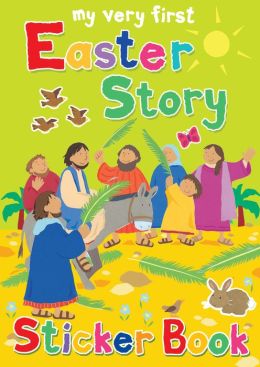 Just in time for Easter is a fun book for children, "My very first Easter Story Sticker Book". Written in kid-friendly language, author Lois Rock tells the true story of Easter, of Jesus coming to Jerusalem riding on a donkey, Jesus' last supper with the disciples, Jesus being betrayed and put to death on a cross, and Jesus rising back to life. The story is told on the top half of pages 1 to 6, with activities portrayed along the bottom of the pages, such as asking the children listening to the story to count how many sparrows are in the picture. At the end of the book is "The Story of Jesus" told in 8 simple picture frames, followed by an Easter prayer.
I don't know about you, but any story that my children can interact with is an instant winner, and this book is no exception! Not only did the children enjoy reading the easy-to-understand Easter Story, but they absolutely loved taking the stickers off the sticker page and finding the missing pictures where they could put them. They also enjoyed the activities included in the story as well. The pictures are bright and interesting, and children are sure to be captivated by the many little details included in each scene, such as pictures of animals or flowers or butterflies. Author Lois Rock and illustrator Alex Ayliffe together have made a winning combination that is sure to please children and their parents who want to help them learn the true meaning of Easter.
If you are looking for a book that is sure to bless the child in your life this Easter Season, then be sure to look for a copy of "Easter Story Sticker Book". I award this book a rating of 4.5 stars out of 5.
Book has been provided courtesy of the publisher via the Kregel Blog tour service, for the purposes of this unbiased review.
LOIS ROCK is the author of numerous children's titles that have been translated into more than 30 languages, and total sales of her books worldwide are well over 4 million copies. Lois lives in Oxfordshire and enjoys cycling around the Chilterns with her husband. She is the mother of three children and has helped lead church children's groups for many years – experiences that she draws on when writing. Published exclusively by Lion, her best selling books are My Very First Bible, My Book of Bible Stories, and The Jesus Encyclopedia.
ALEX AYLIFFE has an established reputation as a storybook illustrator, working with major publishers including Orchard, Ladybird and Hodder Children's Books. Her trademark papercut illustrations are bright and bold, yet dainty and detailed, with lots of character. She won the Sainsbury Best Books for Babies Award for Boo Barney (Little Orchard) in 2000, and My Very First Bible (Lion Children's Books) won the Children's Book of the Year Award at the Christian Booksellers' Convention in 2004.