Still at the top of her game: My review of "Truth Stained Lies" by Terri Blackstock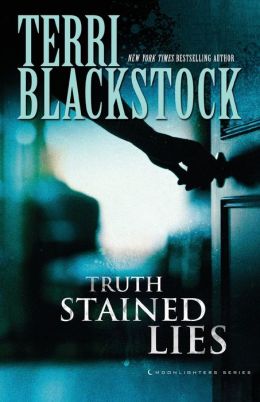 Cathy Cramer is a former lawyer and investigative blogger who writes commentary on local homicides.
When she finds a threatening note warning her that she's about to experience the same kind of judgment and speculation that she dishes out in her blog, Cathy writes it off as mischief … until her brother is caught in the middle of a murder investigation---the victim is his ex-wife. As her brother is tried and convicted in the media, and bloggers and commentators like her have a field day, Cathy wonders if she should have taken the threat more seriously.
Cathy and her two sisters, Holly and Juliet, moonlight as part-time private investigators, working to solve their brother's ex-wife's murder. Juliet, a stay-at-home mom of two boys, and Holly, a scattered ne'er-do-well who drives a taxi, put aside their fear and lack of confidence to learn the art of investigation.
But will it be too late to save their brother from a murder conviction, or his five-year-old son who's the killer's next target?
Truth Stained Lies offers up a wonderful blend of nail-biting suspense and strong characterization, making for a thoroughly entertaining read! I literally read through the novel in one sitting because I couldn't wait to see how everything would resolve. Would Jay's innocence be proven? Would his son Jackson be reunited with him? Would Cathy, Holly, and Juliet be able to find the killer? Terri Blackstock did a fantastic job of leading me from scene to scene, unfolding the truth one step at a time, all while causing me to fall in love with a family of characters I hope to meet again in future books! The characters are complex and realistic, with much to admire while still being completely human, people every reader can relate with. I also loved the overarching themes of the book, that God has a plan for our lives, that good triumphs evil, that forgiveness deals bitterness a blow, and that we are destined to do great things for God. Elements of faith are woven into the book in an utterly natural way without coming across as preachy, something that isn't always easy to do.

Terri Blackstock is at the top of her game, and Truth Stained Lies is not only a masterfully told suspense story, but beautifully showcases deeper themes of life as well. It is quite a ride, and I know you are going to love it! So grab a copy and dive in - but be prepared to lose sleep before you can finally put the book down! I highly recommend this book, and award it 5 out of 5 stars.


Book has been provided courtesy of publicist Ashleigh Martin from HarperCollins, Canada. Available at your favourite bookseller from Zondervan, a division of HarperCollins.
Terri Blackstock (www.terriblackstock.com) has sold over six million books worldwide and is a New York Times bestselling author. She is the award-winning author of Intervention, Vicious Cycle, and Downfall, as well as such series as Cape Refuge, Newpointe 911, the SunCoast Chronicles, and the Restoration Series.