A perfectly delightful tale for girls: My review of "The Very Fairy Princess Follows Her Heart" by Julie Andrews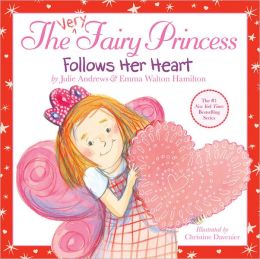 It's Valentine's Day, one of Geraldine's favorite times of year! She gets out her very best glitter to make cards for her family and friends at school, trying extra hard to think of ways to showcase all of their special qualities. But when Gerry gets to school and realizes she accidentally took a folder of Daddy's work papers instead of the cards she worked so hard on - oh no! - she can't help but be disappointed. Thankfully, her teacher helps her find an extra special way to celebrate the inner sparkle of each of her friends.

Another heartwarming Very Fairy Princess adventure from bestselling mother-daughter team Julie Andrews and Emma Walton Hamilton, beautifully illustrated by Christine Davenier.

They often say not to judge a book by its cover, but I think in this case, that would be entirely appropriate! My daughters were absolutely spellbound by the glittery artwork gracing the cover of this beautiful book, and they were equally pleased to dive into this wonderful story. They immediately identified with Gerry and her love of all thins sparkly and glittery, and they especially loved that she sings while she works (something my daughters can definitely relate to). They laughed at the scene where Gerry is emptying her dresser looking for just the right thing, leaving a mess on the floor - after all, how many times have they, the little princesses, forgotten to tidy their own rooms? And they absolutely cheered Gerry on as she spoke encouraging words to every person in her class, and then got to celebrate the perfect Valentine's Day with her class and someone special who just happened to pop by - her Daddy.

The Very Fairy Princess Follows Her Heart is delightful through and through, containing a positive message about being a good friend and sharing encouraging words (even for a boy in her class who she doesn't get along with!), accompanied by wonderful pictures and artwork. Although the book contains a Valentine's theme, it's appropriate for every day of the year - and I have no doubt I'll be reading this book with my children many a time between now and next Valentine's Day!

I highly recommend this children's book and award it 5 out of 5 stars.

Book has been received courtesy of the publisher, Little, Brown Books for Young Readers, for the purposes of this unbiased review.
JULIE ANDREWS EDWARDS is one of the most recognized and beloved figures in the entertainment industry. Her legendary career encompasses the Broadway and London stages, blockbuster Hollywood films, award-winning television shows, multiple album releases and concert tours and the world of children's publishing.
Andrews' dedication to children has been steadfast throughout her career. She began writing books for young readers over thirty-five years ago and her first two novels - MANDY and THE LAST OF THE REALLY GREAT WHANGDOODLES - remain in print and in high demand. Her other books include the LITTLE BO series, and over 20 picture books, novels and Early Readers co-authored with her daughter,
Emma Walton Hamilton
, including the best-selling DUMPY THE DUMP TRUCK series, SIMEON'S GIFT, DRAGON: HOUND OF HONOR, THE GREAT AMERICAN MOUSICAL, THANKS TO YOU: Wisdom from Mother and Child (#1 NY Times Bestseller), the VERY FAIRY PRINCESS series (#1 NY Times Bestseller), and the poetry anthologies JULIE ANDREWS' COLLECTION OF POEMS, SONGS AND LULLABIES and JULIE ANDREWS' TREASURY FOR ALL SEASONS.
Together the best-selling mother-daughter team head-up "The Julie Andrews Collection" publishing program, dedicated to publishing quality children's books which nurture the imagination and cultivate a sense of wonder.